Today heralds 70 years since the Dambuster Squadron (617) embarked upon their daring raid of the Ruhr dams in Germany, Operation Chastise, leaving RAF Scampton at midnight on the 16th May 1943. Led by Wing Commander Guy Gibson, who was only 24 years old, 53 would not return whilst 3 became prisoners of war. Out of 19 bombers, eight were shot down.
617 Squadron
George 'Johnny' Johnson is the last remaining British survivor of that squadron and he was present today at RAF Scampton to mark the 70th Anniversary of the raid. Les Munro is the only surviving pilot of that raid and hails from New Zealand. Canadian rear gunner Fred Sutherland (89) is the third and final surviving crew member of the raid.
Johnny is first on the left.
Events are taking place this week to mark the Anniversary here in the UK and also at the Eder Dam in Germany on Friday.
The bravery and the sacrifice of the young men from that Squadron will always be recognized and honoured. Can you imagine flying a Lancaster Bomber at a mere 30 feet above water, getting ready to drop a bouncing bomb? That was the role of bombardier, Johnny Johnson, who lay in the belly of the Lancaster, watching the water flash by - and each plane could only hold one bouncing bomb so there would be no second chances.
The mission was top secret and extremely dangerous. Flying at such low levels left the bombers extremely exposed. The loss of life was tragic on both sides. Indeed, the daughter of Barnes Wallace, the inventor of the bouncing bomb has said how her father never got over this consequence of the mission and a sadness remained with him for the rest of his life.
Please remember them all this evening at midnight. Think of them leaving to board their Lancaster's taking off and embarking upon the daring raid to the Ruhr Valley in Germany. Flying perilously low across the water. Fifty Three crew members would not return. Innocent people would lose their lives in the Ruhr Valley as a consequence of the raid. Please remember them all.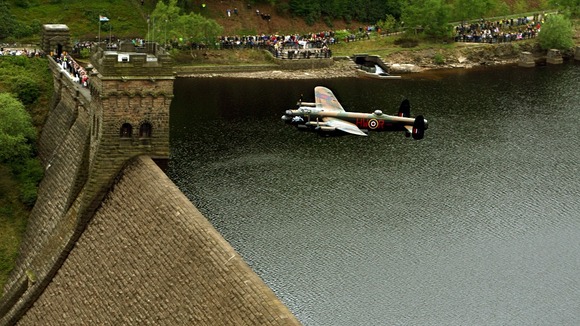 Lancaster Bomber Fly Past Over Derwent Dam